"We dwell in Maya…the world of illusion"—Sri Krishna
The Gamestop fiasco reveals our ruling oligarchs at their worst
There is a saying in science fiction wargaming, "Rot at the core spreads outward..." We have seen the rot that had been in the Hollywood entertainment industry spread to politics and every branch of government. Now, we witness that rot within our financial systems.
Bayou Renaissance Man
The idle musings of a former military man, former computer geek, medically retired pastor and now full-time writer. Contents guaranteed to offend the politically correct and anal-retentive from time to time. My approach to life is that it should be taken with a large helping of laughter, and sufficient firepower to keep it tamed!
Writing on Friday, January 29, 2021, Click here to read at the source.
A week or so ago, I quoted Prof. Angelo Codevilla's view that America is now an oligarchy. That's become even clearer in the current imbroglio over short-selling of Gamestop shares.
The hedge funds that usually make fortunes at this game were caught off-guard by "ordinary folks" like you and I, who organized on Reddit and began their own short-selling campaign to force the hedge funds into closing out their short positions at far higher costs. The result was that Robinhood, a popular trading app, restricted trading in Gamestop yesterday, and some of its members even had their purchases reversed without permission or authorization - all so that the hedge funds and other financial oligarchs could close out their short positions at lower cost.
That's flagrantly illegal, of course - but the financial "powers that be" don't care about that. They don't even care that it was so visible that it can't be hidden or denied. They reckon they're above the law.
Tucker Carlson covered the situation in depth in his program last night. It's a vitally important issue, far more so than just about the stock market, because it shows the same pattern of disregard for the law and the will of the people that we saw in November's elections. Basically, the oligarchs said, "The people can't be trusted to vote in the politicians we want, so we're going to sabotage and manipulate the elections to get the results we want." Now they've done exactly the same thing to the stock market, shutting out ordinary people in order to get the result - and the profit - that they want.
If you prefer to read rather than listen, you'll find a transcript of most of Tucker's discussion here. However, I do strongly urge that you either listen and watch, or read, or even both, because this is vitally important.
EDITED ON 01/30/2021 TO ADD: Well, well, well. Guess what? YouTube has taken down, or made private (and hence not embeddable) every video of Tucker Carlson's broadcast about the Gamestop affair. Big Tech is (yet again) censoring news it doesn't want us to hear. Fortunately, you can still see the video (or most of it) at the Fox News link in the preceding paragraph. I highly recommend that you click over there and watch it for yourself, or read the transcript.
As one poster on Gab summed it up:
They killed Epstein and told us it was suicide and every normal person knew it was bull**** and it didn't matter, and then they blatantly rigged the election, and then blatantly rigged the stock market. They don't care anymore.
I couldn't have put it better myself. They don't care anymore that we see their manipulation in action. They think they can do as they please and get away with it. After all, they stole an election, didn't they? What's a little stock market shenanigans compared to that? They think we'll forget about it soon enough, and things will return to normal - that is, their normal. We'll still be screwed.
This is why I said it was so important to oppose the electoral fraud that was so obviously in play last November. Those behind it successfully manipulated the courts into refusing to actually examine the evidence of fraud, and allow the purported results to stand. As a result, we now have an illegitimate Administration in Washington. As the Gamestop imbroglio illustrates, we also have an illegitimate financial system, rigged in favor of the oligarchs who control it - and now that the Trump administration is gone, Washington D.C. encourages and tolerates that.
What those oligarchs appear to have forgotten is that all their machinations are only going to work as long as most people don't get fed up enough to take action. The Redditors who've just watched themselves blocked - and in some cases impoverished - by the financial powers that be, are not going to go away. They're going to be angry as ****, and rightly so. If they, and others like them, decide to burn down the entire financial system by causing so many disruptions that it can't operate normally, there isn't much the oligarchs can do to stop them, except stop all public trading and perform their machinations "out of sight and (they hope) out of mind". That won't work - not in today's integrated, automated, online world, where every secret is one leak away from being exposed.
The veil is being torn away. Everybody can now see for themselves that "the Emperor has no clothes" - and instead of "going with the flow" and pretending that he does, they're mocking and pointing fingers.
Our society is becoming dangerously destabilized, and those at the top are responsible, because they've become so larcenous that their greed - for money, for power, for control - is unbalancing everything. From the politicians who enter office as ordinary middle-class Americans and leave it as multi-millionaires, to the financiers who pay themselves six- and seven-figure bonuses every year for fleecing ordinary investors in the markets; they're all in bed with each other, and all determined to make out like gangsters. They've lost all discretion. They want it their way, and they're determined to get it by hook or by crook; but in doing so, they've exposed themselves, and that makes them vulnerable.
They may think they can use the courts, and the law, and the trappings of officialdom, to protect their ill-gotten gains. However, that won't stop angry Americans from finding out who's behind this (who's benefited from it, who's made money, who's shafted everyone else), and going after them personally, as individuals. I won't be surprised to see some of those behind this fiasco suffering very direct consequences from it - and I won't shed a single tear for them if they do. It'll be no more than they deserve.
Peter
Another great post from this same blogger you should read is: So much for the Constitution and our privacy . . .

The Stock Market, Fatally Wounded By The Truth, Will Stumble And Crash
It didn't have to be this way, but this is the reality we must now face: truth is fatal to fraud, and our entire financial-political system is a fraud.
The stock market has just been punctured by the thin blades of truth. It is fatally wounded but nobody dares notice. The wounds are barely visible, but the internal damage is mortal. The stock market is already stumbling and will soon crash.
The banquet's participants ignore the faltering market because the rules are we never reveal the truth, or acknowledge it, or discuss it, no matter how obvious, because truth is fatal to fraud. So the stock market's vital signs are in freefall but the conversation remains upbeat and light: stimulus, rapid growth in the second half, etc., all the patter of a carefully constructed illusion that fraud is forever as long as the truth never comes out.
Alas, the truth has emerged from the shadows, despite the silence of the insiders and the financial media. Here are the truths that have emerged like karmic genies:
1. The stock market is nothing but one giant fraud. The entire market is corrupt and rigged from the ground up. The fraud is systemic, designed into every tendril of the market. It was a useful deception to blame it all on "bad players," but now the truth has been revealed: the market is nothing but a rigged game enriching insiders.
2. The Fed is a fraud. All the Federal Reserve has accomplished in 13 years of goosing the stock market is unprecedented wealth and income inequality as the fraud of the Fed has boosted the fraud of the market, which has fatally undermined America's social and economic orders. Please read this short paragraph and let it sink in. Monopoly Versus Democracy (Foreign Affairs):
Ten percent of Americans now control 97 percent of all capital income in the country. Nearly half of the new income generated since the global financial crisis of 2008 has gone to the wealthiest one percent of U.S. citizens. The richest three Americans collectively have more wealth than the poorest 160 million Americans.
Thanks to the tightly bound frauds of the Fed and markets, the bottom 90% of Americans own essentially zero capital that produces income and the vast majority of all income gains since 2008 has been siphoned off by the top 0.1% (see chart below from the New York Times.) Three monopolists own more wealth than half the nation's citizens.
Yet the fraudsters in the Fed laughably insist their policies haven't created inequality on such a vast scale that is has destabilized the nation. The Fed's credibility is zero, yet the financial media tiptoes around, proclaiming the glory of the Emperor's illusory clothing.
3. America's system of governance is a fraud. What can we say when powerful politicians are worth over $100 million and are active participants in the most speculative excesses of the stock market, Buying More Than $1 Million In Tesla, Disney And Apple Calls In December? Do we even need to ask where their interests lie?
What can we say about a regulatory system that immediately bails out the most corrupt and destructive financiers / speculators but stands aside when the public loses trillions of dollars? The financial regulatory system is a complete fraud, devoted to bailing out the biggest insiders while ignoring the losses of the bottom 99.9%. America's financial regulations protect the corrupt, not the citizenry.
4. The wealth effect is a fraud. The Fed's entire fraudulent policy holds that if the stock market is goosed higher by Fed rigging, the phantom wealth handed to the top 0.1% will magically trickle down and benefit the bottom 90% who own no productive capital.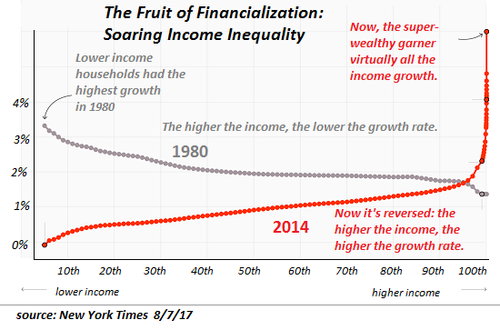 There is no magic; the wealth effect is a fraud. If one $5 stock (GameStop) can be pushed up to $400 in a week, why not push every $5 stock to $400? This is the essence of the wealth effect: all capital is phantom capital, a fraud balloon awaiting a pin.
The wealth effect failed, the Fed failed, regulations failed, politics failed. But thanks to the Fed and the self-serving political class, the entire U.S. economy is now utterly dependent on this completely corrupt and destabilizing fraud–the stock market. If the stock market stumbles and collapses, the economy–now totally dependent on phantom capital –also stumbles and collapses.
It didn't have to be this way, but this is the reality we must now face: truth is fatal to fraud, and our entire financial-political system is a fraud. The stock market is pale, and blood is seeping through the tuxedo, but the insiders, politicos and their toadies and apologists are nervously averting their gaze.
The market's bleeding but it can't possibly die, can it? Yes it can, and yes it will: truth is fatal to fraud, and the truth has escaped and is now free. We can't unsee what's behind the curtain. Original source...Liberty's Torch: https://bastionofliberty.blogspot.com/2021/01/they-dont-seem-to-realize-theyre.html