20 And when ye shall see Jerusalem compassed with armies, then know that the desolation thereof is nigh.
21 Then let them which are in Judaea flee to the mountains; and let them which are in the midst of it depart out; and let not them that are in the countries enter thereinto. — Luke 21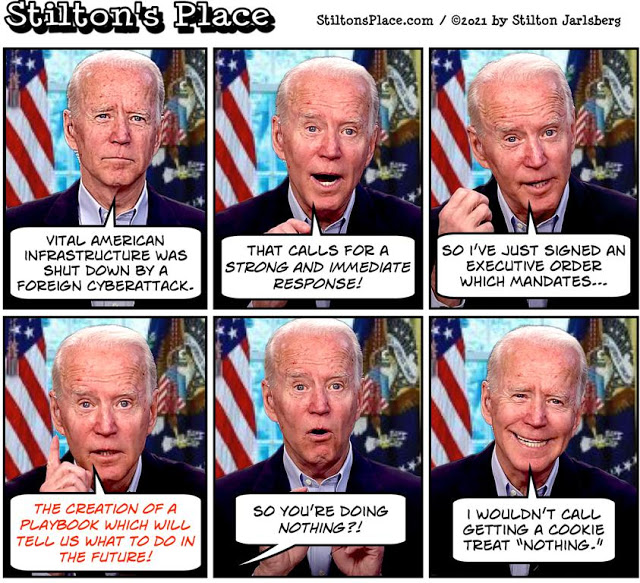 from Stilton's Place
Following the successful cyberattack (thought to be tied to a criminal group called "Darkside") which forced Colonial Pipeline to shut down 5500 miles of pipeline, Joe Biden has taken forceful action to show computer terrorists that the United States won't stand for this. Rather, it will continue to sit on its well-padded rear end.
Oh sure, the attack caused filling stations to run out of gasoline and plunged the stock market into despair, but Biden's response has been to sign an executive order which will create committees that will eventually compile a playbook of suggestions about possible responses to future such attacks. Such as creating larger committees and thicker playbooks, almost certainly at a cost of $2 trillion.
Were Donald Trump still in the Oval Office, we would likely have seen all of this play out much differently. For starters, the media would have blamed the President personally for the utter failure of cybersecurity measures and then cite the failure as smoking-gun proof of collusion between the Russkis and the White House. Under Biden, the media's response was more measured, largely amounting to a collective "ho-hum, nothing to see here."

We also expect that Trump would have skipped the committee approach and just launched some "beautiful, beautiful Predator drones" which would fire "Hellfire missiles which are, and I've heard this personally from some of our top generals, you'd know their names, the best missiles anywhere," after which, when the clouds of red mist cleared, the computer hackers would look like cans of Spaghetti-Os which exploded violently in a hot car.
Such an action would be a considerable disincentive for those planning future cyberattacks on our nation's infrastructure, although we're sure that any terrorists with a pathological fear of "playbooks" are also reconsidering their career options about now. Or not.

But for now, the Colonial Pipeline crisis has been resolved and gasoline will soon be trickling back to the pumps. And is the crisis over because our laughingly-named intelligence agencies tracked down the miscreants and undid the computer mischief? Nope. It's over because Colonial Pipeline, rather than wait for the Government to act, paid the hackers a $5,000,000 ransom to get the password which would unencrypt the data on their frozen computers.

Which, in fairness, proves that their playbook is working just fine.
More comics and humor at…http://stiltonsplace.blogspot.com/

If you need quality traffic, signups, leads and sales you might be using traffic exchanges. Why not play a game at the same time, where you can earn advertising and build downlines in the best resources online? Play The Food Game and be the best chef with the most delicious recipes!



Join the Food Game
I found a really fun game that I enjoy playing while surfing in traffic exchanges, so I really wanted to share this with you. You also get to advertise your business for free!
Except for the traffic you generate by playing this game, you can also build downlines in several of the best traffic exchanges. You can advertise in all the participating sites, and they have an affiliate program where you can earn money. There are currently 279 traffic exchanges that offer the Food Game.
In the actual game, you are a chef. Your goal is to cook advanced recipes, but you need to go to cooking classes and find the ingredients to be able to do that. You can also upgrade the recipes to become an even better chef, and it's great fun to play!


We are under an evil, totalitarian threat [Letter from Great Britain – 05-15-21]
"The Financial Jigsaw" has been serialised here and is replaced by this weekly "Letter from Great Britain." NOTE – If anyone would like an electronic copy of the complete book, I should be pleased to email a free PDF on request to: peter@underco.co.uk.
On May 15, 2021 Austrian Peter wrote on The Burning Platform :
The scamdemic has highlighted an agenda that the global elites have been promoting for decades. They have tried on many occasions, without success, and now we have arrived at the pinnacle of their evil plans thus far. It is instrumental to consider that the majority of people supporting the current impositions are generally the 'left' Democrats with the 'right' Republicans opposing them. This has split America into two divisions—those who believe in the 'collective' (the herd) and those who believe in 'freedom' of the individual.
"Today, we face new enemies of the open society from within our own societies. Again, they make knowledge claims that are both cognitive and moral. The difference is that they don't operate with the mirage of an absolute good, but with deliberately stoked fear of threats, such as the spread of the coronavirus or climate change. These are undoubtedly serious challenges. But they are employed to set certain values absolute, such as health protection or climate protection.
An alliance of some scientists, politicians and business leaders claims to have the knowledge of how to steer society down to family and individual life in order to safeguard these values. Again, the issue is about a higher social good – health protection, living conditions of future generations – that is posed as overriding individual human dignity and basic rights.
The mechanism employed is to spotlight these challenges in such a way that they appear as existential crises: a killer virus going around, a climate crisis threatening the livelihoods of our children. The fear that is stirred up in this way then makes it possible to gain acceptance for setting aside the basic values of our coexistence – just as in the totalitarianisms criticized by Popper, in which the supposedly good motivated many people to commit de facto criminal acts.
This mechanism consists in spreading fear and exploiting the moral value of solidarity to define this boundary in so narrow a manner that, in the end, there is no room for the free shaping of one's life left: any exercise of freedom can be construed as generating negative externalities that threaten the freedom of others.
Consequently, everyone has to prove that their actions do not unintentionally further the spread of a virus or the change of climate, etc. – this list could be extended at will. In this manner, everybody is placed under a general suspicion of potentially harming others with everything they do.
The burden of proof thus is reversed: it is no longer required to provide concrete evidence that someone impairs the freedom of others with certainty of their actions. Rather, everyone must prove from the outset that their actions cannot have unintended consequences that potentially harm others. Accordingly, people can free themselves from this general suspicion only by acquiring a certificate that clears them – like a vaccination certificate, a sustainability passport or a social pass in general. This is a kind of modern sale of indulgences. The serious negative effects for health protection, for the entire population and viewed globally, as a consequence of the devastating damage caused by lockdowns and the like are now evident." https://www.aier.org/article/the-new-enemies-of-the-open-society/
Continue reading at the source...https://www.theburningplatform.com/2021/05/15/we-are-under-an-evil-totalitarian-threat-letter-from-great-britain-05-15-21/