20 And when ye shall see Jerusalem compassed with armies, then know that the desolation thereof is nigh.
21 Then let them which are in Judaea flee to the mountains; and let them which are in the midst of it depart out; and let not them that are in the countries enter thereinto. — Luke 21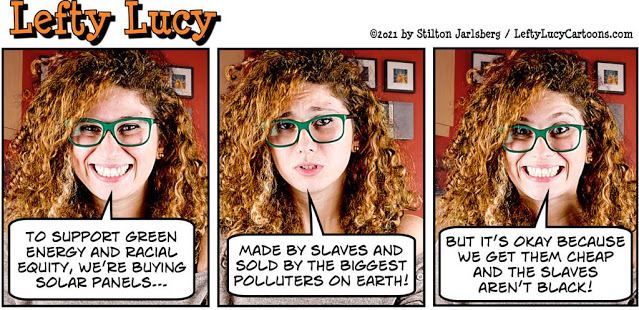 from Stilton's Place
During a recent hearing, US Special Envoy for Climate (we don't know if there's also a Just Regular Envoy for Climate) John Kerry conceded that there's a tiny little problem with our nation's "Green New Deal" push to import millions of solar panels. And that tiny little problem is that some of those solar panels are manufactured by slaves (Uighurs, though saying that word aloud in the workplace can probably get you fired) in China. The country which, according to recent data, produces more planet-contaminating pollution than every other country on Earth combined.

So sending them our money to create more pollution seems counterproductive at the very least. But more troubling is that whole "slave labor" thing, which you'd think would bother those on the Left at least a little. But apparently they're only interested in slavery which happened in the distant past and can be used for current political leverage.

To be fair, the enslaved Uighurs who are making those solar panels at gunpoint shouldn't complain; the non-enslaved Uighurs are being systematically murdered in a sweeping genocide effort by China. Although if their bodies are properly composted, it's likely considered a successful "green initiative" and net win for the Earth by the AOC-Biden administration.

Here's an idea for the Democrats who are currently running the show in Washington: how about immediately implementing policy which prohibits billions of our tax dollars going to support slavery, pollution, and genocide?
More comics and humor at…http://stiltonsplace.blogspot.com/

If you need quality traffic, signups, leads and sales you might be using traffic exchanges. Why not play a game at the same time, where you can earn advertising and build downlines in the best resources online? Play The Food Game and be the best chef with the most delicious recipes!



Join the Food Game
I found a really fun game that I enjoy playing while surfing in traffic exchanges, so I really wanted to share this with you. You also get to advertise your business for free!
Except for the traffic you generate by playing this game, you can also build downlines in several of the best traffic exchanges. You can advertise in all the participating sites, and they have an affiliate program where you can earn money. There are currently 279 traffic exchanges that offer the Food Game.
In the actual game, you are a chef. Your goal is to cook advanced recipes, but you need to go to cooking classes and find the ingredients to be able to do that. You can also upgrade the recipes to become an even better chef, and it's great fun to play!


The countdown to mass famine has begun, and people you know will starve
The engineered mass famine in America is now under way, with the deep state sabotage of the Colonial Pipeline already causing trucking to suffer fuel shortages across Southeast states, impairing some food deliveries.
If this pipeline is not fully restored in the next 72 hours or so, food shelves in some areas will go empty and panic will take hold across the populations there.

Meanwhile, Michigan Governor Whitmer is attempting to close another pipeline that serves Northern states, demonstrating that pipeline shutdowns are part of an engineered collapse of America's industrial infrastructure.

If this deliberate shutdown plan continues, many people will face famine this summer as America plunges into chaos and desperation. It's all by design, of course, as the radical Marxists who stole the election are working their way through a checklist to destroy America from within.

Listen to the important podcast here.