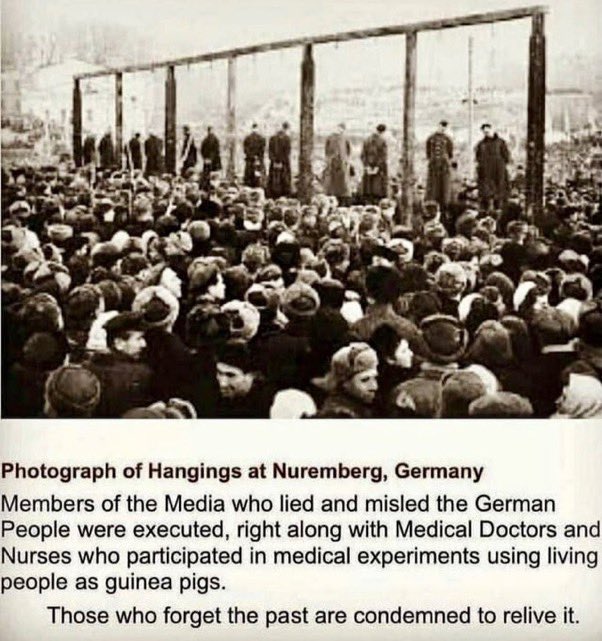 Antifa intimidation in action
On Sunday, armed, masked Antifa members tried to disrupt a small demonstration against an all-ages drag brunch at a restaurant in Fort Worth. Carrying rifles and handguns, the Antifa goons first interrupted the demonstration, then one of them assaulted the demonstrators with pepper spray while others brandished AR-15-type rifles in an intimidatory display. Police arrested three of the Antifa members for their actions. You can read a news report about the matter, and/or watch the video clips (at website), which show clearly what happened. The second is much shorter than the first, at the expense of some detail. (In case you were wondering, no, "Meghan Grant" is no relation of mine!)
There are several points to learn from this incident.
Antifa were willing to bully their way into a peaceful demonstration and use violence against its members. They had no tolerance whatsoever for opposing views. We've seen that before, of course, but it's an unchanging element of their makeup.
LESSON: We should take that into account when confronted by them, or when confronting them. They're looking for a fight, and won't back down.
The demonstrators were neither equipped nor prepared to handle such intervention. On such a sensitive topic, they should have been.
LESSON: If you're not prepared - in every way - to stand up for your beliefs, you're going to be steamrollered in such a situation.
Fort Worth police acted effectively to deal with the main perpetrators after the incident was over; but they did nothing (probably because they had not yet arrived) to protect the free speech of the demonstrators. By the time they intervened, the demonstration had already been disrupted.
LESSON: If you want to exercise your right of free speech, you'd better be prepared to defend that right - and yourselves.
If demonstrators had defended themselves against Antifa's bullying, the police probably would not have tried to distinguish between innocent and guilty parties. They'd have acted to stop the violence, and arrested anyone who wouldn't listen to them. One can't blame them for that, of course.
LESSON: If you stand up for yourself and/or your rights, you're likely to be treated as "one of the bad guys" unless and until evidence emerges to prove that you're not. First responders won't have such evidence available, and won't listen until the situation is under control. Obey them, or take the consequences.
Antifa were well armed and equipped: a battledress-equivalent "uniform", face masks, umbrellas to block the view of security cameras, and firearms that cost hundreds, if not thousands of dollars. I wonder where they got the money? It may have come out of their own pockets, but it could equally well have been "sponsored" by those using Antifa as a tool to disrupt the "system". When one sees such equipment deployed on the streets, it sends a message of organized aggression that's unmistakeable.
LESSON: If we want to stand up against such aggression, we're going to have to be similarly well armed, equipped and trained.
Note Antifa's teamwork. Two armed individuals confront and distract the demonstrators while a third sneaks up behind them, reaches between them and pepper-sprays the victims. This was clearly a well-rehearsed move.
LESSON: Our counter-measures need to be equally well rehearsed and prepared, and we need to prevent such assailants from approaching too close - or have suitable obstacles in place to block their approach.
We cannot use violence first in trying to defend ourselves. If the demonstrators had drawn or displayed weapons in a threatening manner to make Antifa keep their distance, that would have been an illegal act in the absence of any direct, immediate and otherwise unavoidable threat to their lives. Antifa knows this, and will exploit the law to provoke reactions that they can then label as "illegal" or "a crime". They'll use the system against us.
LESSON: Choose your battles wisely, and try to ensure that you choose the battleground too, so that you can remove as much risk as possible without exposing yourself to such consequences. A small group of demonstrators at a known major flashpoint such as a drag brunch, without the numbers or backup needed to protect themselves, was asking for trouble - and they found it.
The news media are not on the side of the peaceful demonstrators. Their views are politically incorrect, whereas Antifa is the opposite. Note how little coverage there's been of this incident in major news media. The Fox report linked above is the only one I've found on national media.
LESSON: We cannot rely on honest, unbiased reporting of such events and incidents. Coverage is either going to be deliberately withheld, or slanted to a politically correct point of view. The news media are not our friends.
Read (more) at the source: at Bayou Renaissance Man. Source: https://bayourenaissanceman.blogspot.com/2023/04/antifa-intimidation-in-action.html
From Peter over at Bayou Renaissance Man, we see the latest tactics being used attacks from Antifa. They are running their operations like a military ambush. Watch the video below:
Matt Bracken: "Organized, masked, uniformed paramilitary communist action…"

Folks are counting the Fort Worth Antifa incident as a police win, but this is just the beginning, not the end.

Count all the Antifa long guns and tactical pistols, helmets and body armor. Carried and worn by 20-year-old losers with no jobs. They are well funded.

Some accelerationist from either side, or even a .gov agent, is going to do some 400 yard high velocity plinking at a future similar event. Then all hell will break loose and a kinetic CW2 will be very hard to stop thereafter.

This is why the KKK was banned from wearing robes in many circumstances, masks were outlawed at public events, etc. This kind of organized, masked, uniformed paramilitary communist action is either stopped hard by legal means or it will lead to national disaster.

—Source: Matthew Bracken —April 27, 2023

They have an assault element, consisting of two members with umbrellas and one with pepper spray. The assault element engages the peaceful protesters by coordinating to spray them in the face with pepper spray.
They also have a fire support element, consisting of two members armed with AR-pattern rifles carried at the low ready as they approach the ambush location to make sure that no one defends themselves from the assault elements. Note that all have on helmets, masks, and communication devices (probably Baofeng) radios.
Note that when the cops go to arrest the guy who actually used the pepper spray, other Antifa members attempted to actively interfere in the arrest. They do this knowing full well that they will be bailed out and have their lawyers paid for. Note that arrestee #3 claims to be a medic coming to help.
With all of this, the left still claims that Antifa doesn't exist.
Arrestee #1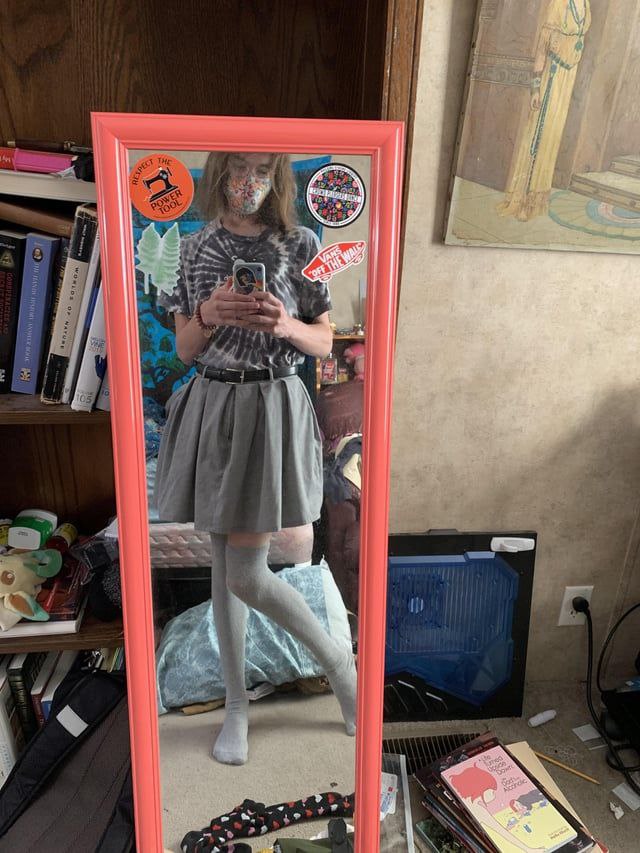 Samuel Fowlkes, 20, a tranny terrorist that is a member of Antifa, was arrested on suspicion of assaulting a peace officer, four counts of assault causing bodily injury, evading arrest & resisting arrest.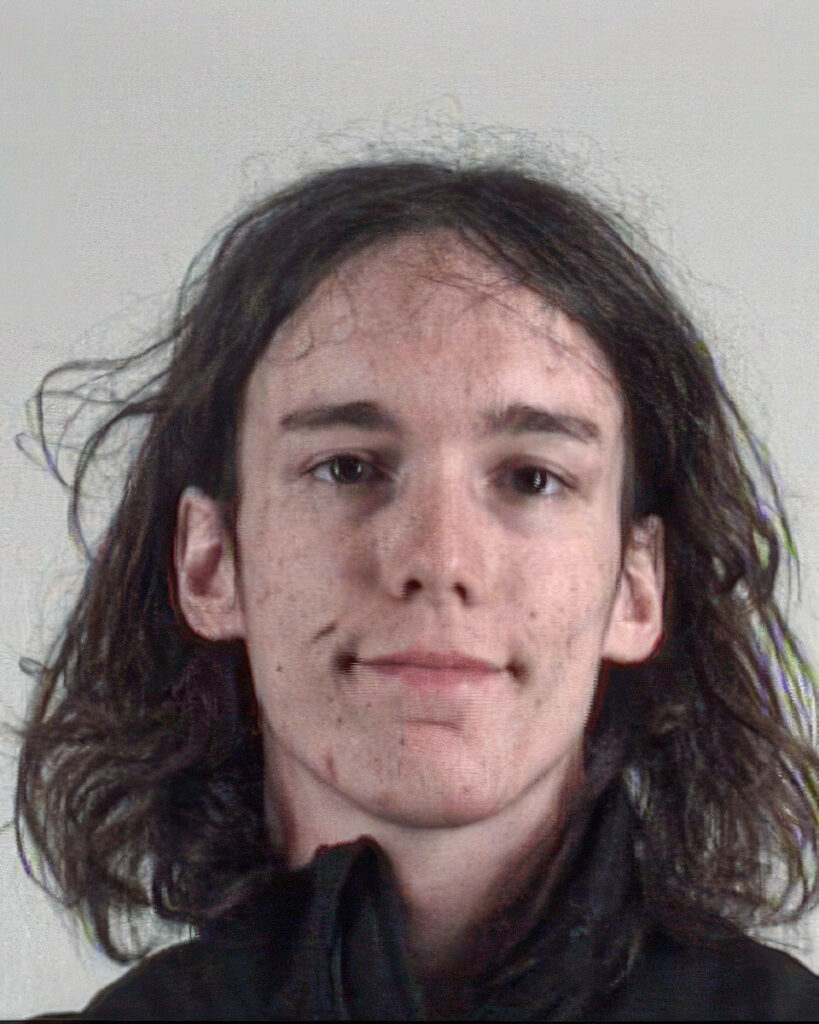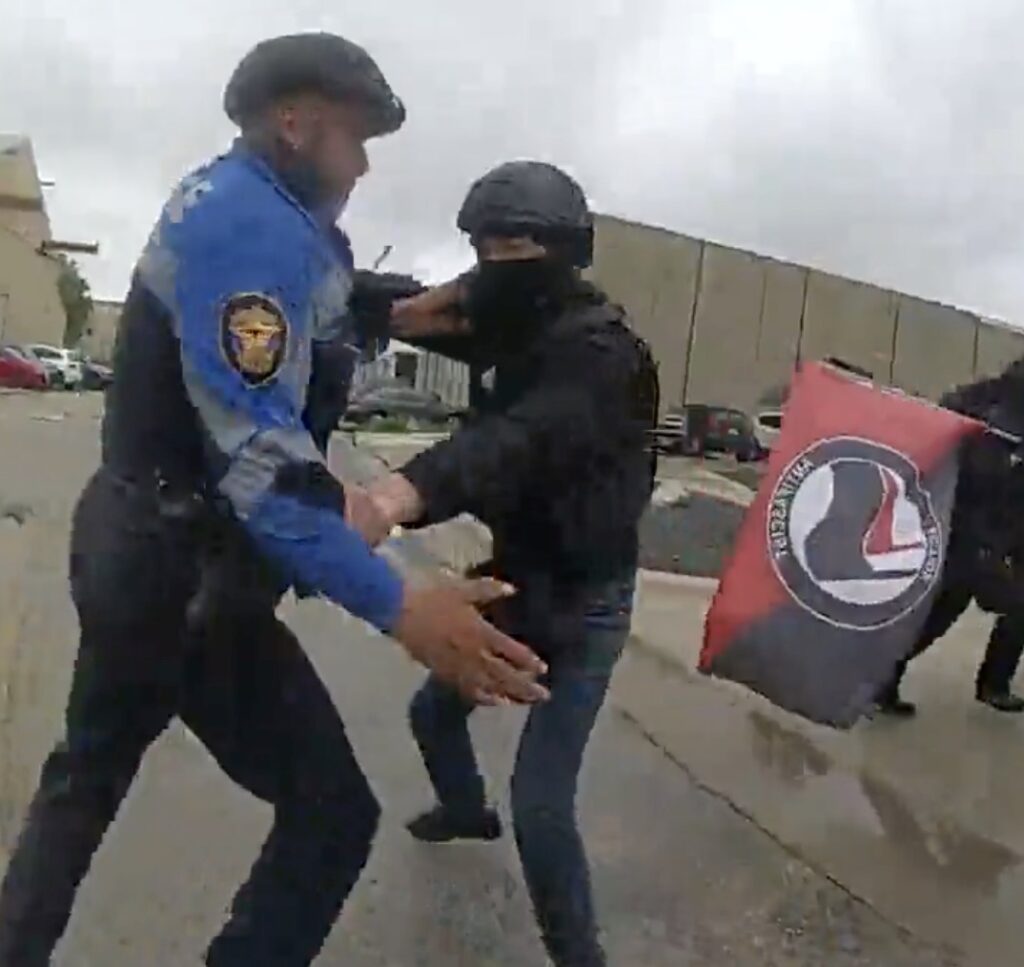 Arrestee # 2
Christopher Guillott, 33, is a leader of the Elm Fork John Brown Gun Club. He was arrested outside a drag show in Fort Worth, Texas on April 23 and charged with assault on a peace officer & interfering with public duties.
Arrestee #3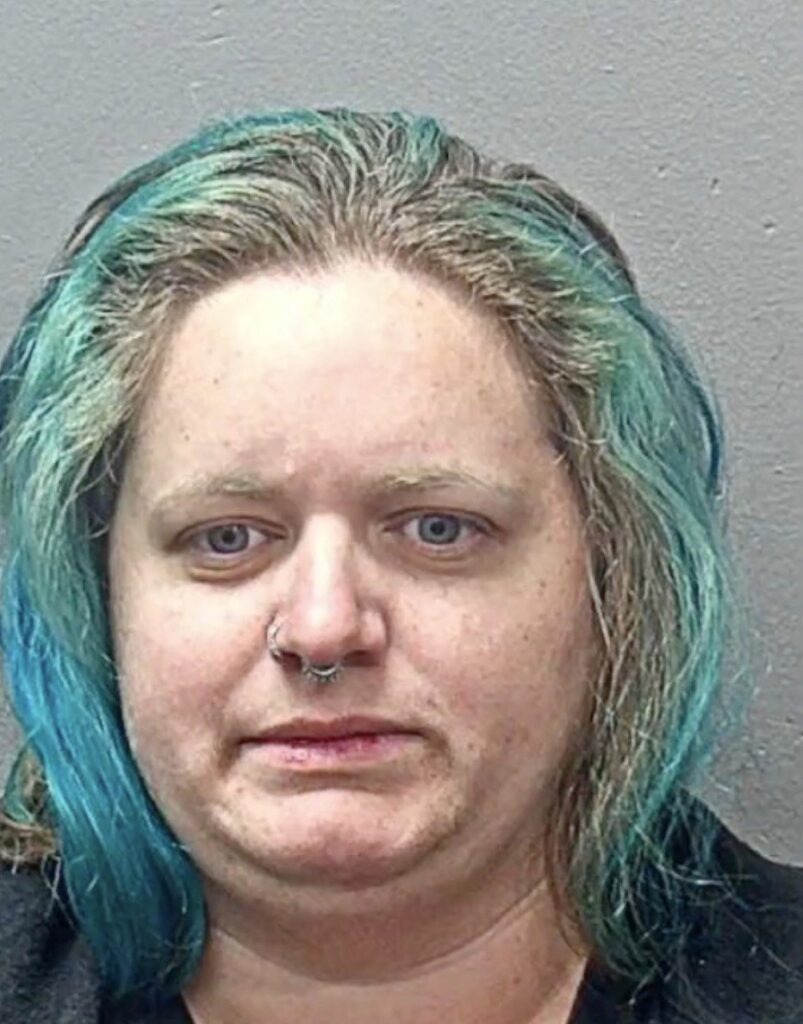 Meghan Grant, 37, of Dallas, is a communist tranny Antifa member who claims to be nonbinary. She (he? it's confusing) was arrested on April 23 in Fort Worth and charged with resisting an arrest and interfering with public duties. Grant is member of the North Texas cell of the John Brown Gun Club.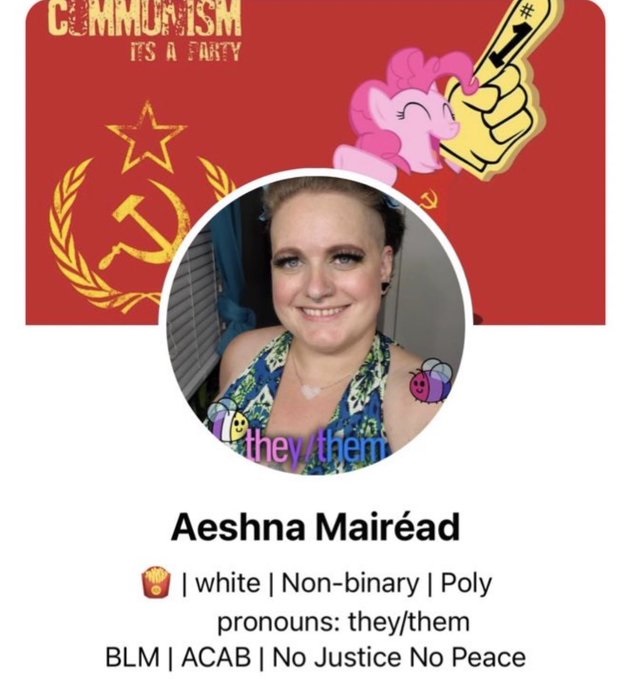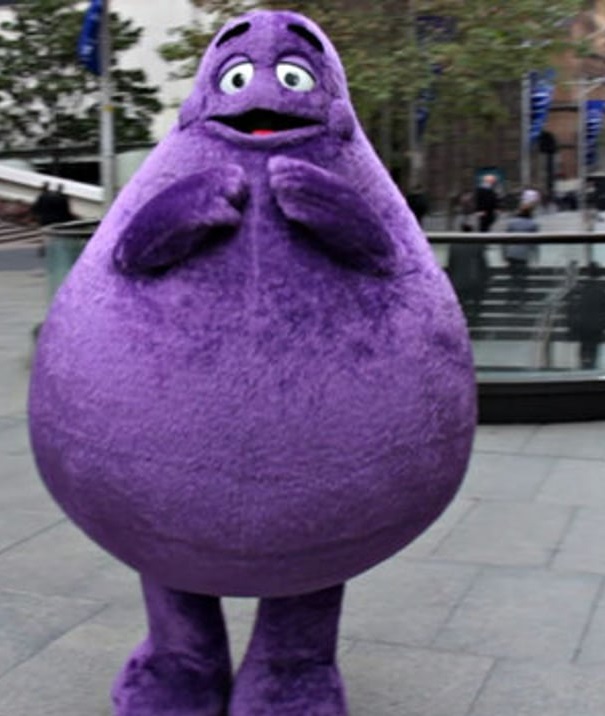 All of the Antifa suspects were bailed out within hours by the Elm Fork John Brown Gun Club they are a part of used CashApp to facilitate cash donations. The campaign was promoted on Twitter by far-left extremists.
These guys are becoming more and more dangerous, and are displaying a level of organization and C3 that is impossible to understate. They have a communications plan, they are motivated, and appear to be standardizing their loadouts. This is a real threat to everyone, unless you are organized and operating in mutually supporting groups. This is the sort of language being posted by arrestee #1: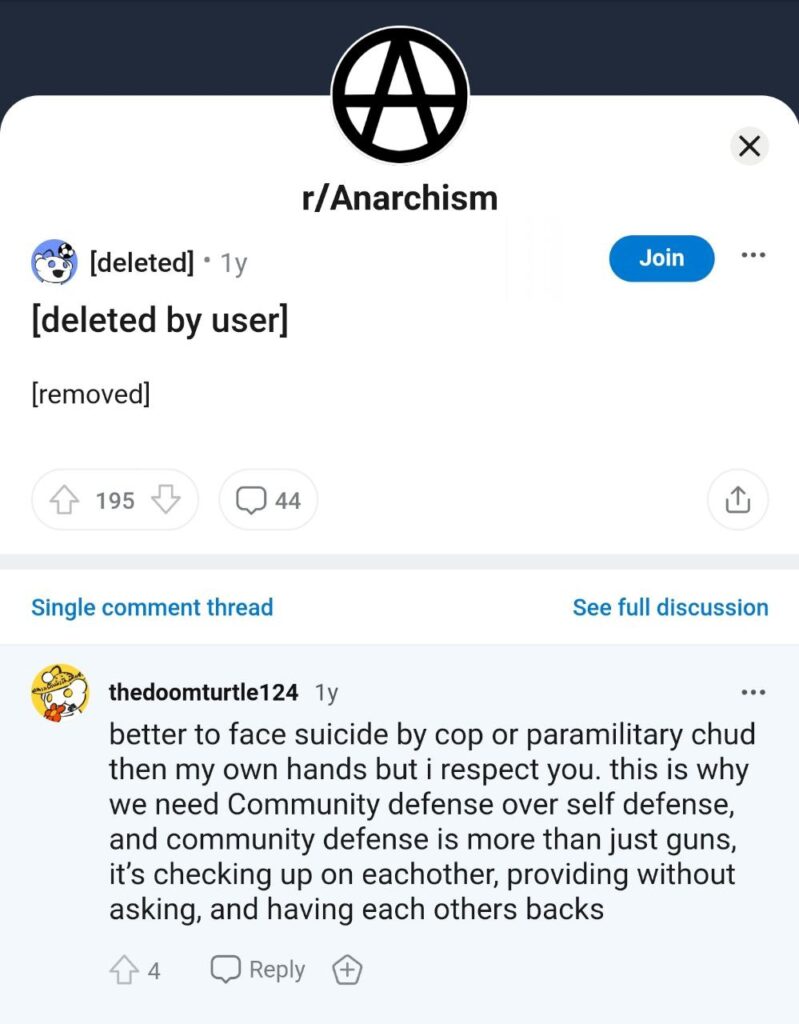 They are mentally unstable, delusional, and ready to commit suicide.

Continue reading (more) at the source: at Area Ocho. Source: https://areaocho.com/antifa-intel-getting-spicier/
M O R E : Fox News report / Virginia Antifa report
We generally recognize that our living space has three dimensions (forward-backward, left-right, and up-down).
A plane has two dimensions, a line one, and a point zero.
However, mathematicians have come up with spaces that have any whole number of dimensions. It turns out that the sensible way to assign a dimension to a fractal leads to fractional values, such as 1.3327. This peculiar property is very fundamental and reflects the fractal's behavior under changes of scale.
The very existence of such forms suggests an enourmous range of new physical and mathematical questions, by directing our attention away from the classical obsession with smoothness.
Ian Stewart asks: What happens when light rays pass through a medium whoose refractive index varies fractally? If they reflect off a fractal mirror? Or, how will the passage of a laser beam through a turbulent atmosphere affect its ability to destroy a nuclear missile? What happens to a radar beam when it bounces off an irregular landscape? What sort of sound will a drum with a fractal rim make?
Once we open our eyes to the distinctive character of fractals, we see that the world is full of them. As yet, we know very little about their deeper nature.
They Are Literally Poisoning Our Food

Have you ever heard of neonicotinoids? Most of you probably have not, and that is exactly what the giant agricultural corporations want. They don't want you to know that crops all over the United States are literally being "pre-poisoned" with harmful insecticides that are having a nightmarish impact on the environment. And most of our politicians will never do anything about this because they are being showered with campaign donations by the companies that are doing the poisoning. So millions upon millions of pounds of neonicotinoids will continue to be used every single year, and most Americans will never have any idea what these insecticides are doing to the world around them.

—Source: Michael Snyder
—April 27, 2023
The Democrats Plan to Steal Another Election
Joe Biden with a dismal approval rating of 37% has announced that he is running for a second term. How can he possibly win? By again stealing the election.
Democrats control the large cities in swing states. In the past two elections, they have proven that they can easily steal the election. It is now impermissible to even report evidence of election theft. Experts who provided evidence were threatened with prosecution, and Fox News management rushed to pay more than three-quarters of a billion dollars of shareholders' money in order to create the precedent that reporting evidence of stolen elections constitutes defamation. As Democrats control election procedures and vote counting in large cities, they, and not the voters, determine election outcomes. The last two American national elections prove the truth of Stalin's dictum: It matters not how people vote; it matters who counts the votes.
Everyone has a plan until they get hit in the face.

--Mike Tyson

I am a "conspiracy theorist." I believe men and women of wealth and power conspire. If you don't think so, then you are what is called "an idiot." If you believe stuff but fear the label, you are what is called "a coward."

--David B Collum

"The point of modern propaganda isn't only to misinform or push an agenda. It is to exhaust your critical thinking, to annihilate truth."

--Garry Kasparov

The All-America Economic Survey found that 70% of Americans disfavor a Biden second term. This indicates that a large percentage of Democrats themselves do not want Biden. In America today, elections are nothing more than a veil behind which the elite rule.

The Democrats have a good candidate, Robert F. Kennedy, Jr. But RFK opposes Big Pharma's control of US medicine and the agencies–FDA, NIH, CDC–that serve as Big Pharma's protectors and marketing agents, and he opposes other aspects of the oligarchic system protected by official narratives upheld by the media. RFK will not be permitted to be president.

Republican Trump has by far the largest number of voters, but the Democrats have weaponized law in an effort to stop him from running. Other possible and strong Republican candidates–Ron DeSantis and Tucker Carlson–are unacceptable to the ruling elite and to the Republican establishment. If DeSantis makes himself acceptable to the establishment, he will lose his luster with voters.

The long-term ongoing collapse of US education has produced a population many of whom are comfortable with censoring and suppressing information that they are programmed to regard as "offensive" or "misinformation." These two categories of unwelcome information refer to truths that are inconvenient for the elite and their official narratives. The regard of truth as hurtful has gained a foothold and exercises peer pressure on parts of the population, which makes it difficult for the people to act in their own interest.

Essentially, democracy has ceased to exist in the US. Increasingly, "elected" representatives are appointees of the ruling elite, who control the selection of candidates by their allocations of campaign funds. Trump was the last elected President (twice). It is unlikely the ruling elite will allow Trump to again enter the White House.

When agendas prevail over truth, tyranny is the consequence. When facts can't matter, there is no science. Remember how easy it was for a crank to destroy Soviet genetics. Already in the US we have reached the point where mathematics is said to be a tool of white supremacy. Americans might think this is laughable, but the Soviet geneticists who were executed and imprisoned didn't find it laughable. Read (more) at the source: at Paul Craig Roberts dot org. Source: https://www.paulcraigroberts.org/2023/04/28/the-democrats-plan-to-steal-another-election/2023/04/antifa-inti…

If you need quality traffic, signups, leads and sales you might be using traffic exchanges.

Why not play a game at the same time, where you can earn advertising and build downlines in the best resources online?

Play The Food Game and be the best chef with the most delicious recipes!




Join the Food Game
I found a really fun game that I enjoy playing while surfing in traffic exchanges, so I really wanted to share this with you. You also get to advertise your business for free!
Except for the traffic you generate by playing this game, you can also build downlines in several of the best traffic exchanges. You can advertise in all the participating sites, and they have an affiliate program where you can earn money. There are currently 279 traffic exchanges that offer the Food Game.
In the actual game, you are a chef. Your goal is to cook advanced recipes, but you need to go to cooking classes and find the ingredients to be able to do that. You can also upgrade the recipes to become an even better chef, and it's great fun to play!



"Given enough time, any man may master the physical. With enough knowledge, any man may become wise. It is the true warrior who can master both....and surpass the result." ~Tien T'ai~

"I love it when someone insults me. That means that I don't have to be nice anymore" ~Billy Idol~
The "Joe Biden" regime is "standing up for our democracy" by trying to silence all and any public speech about what it does in the world and how it treats its own citizens. Meanwhile, the entire scaffold of American life crumbles and you are supposed to not notice it's happening. The funny part is that the Democratic Party thinks this is an election strategy. The funniest part of the funny part is that we bother holding elections at all.
You understand, "Joe Biden" is only pretending to run for president again, in the same way that he's only pretended to be president the past two years. Are we to believe, for instance, that the old zombie has become a fervent Maoist? Or that he follows any known structured political philosophy at all, other than cashing checks from favor-seekers from all over the world? "Joe Biden" is pretending to run — no matter how preposterous it seems — because his handlers know that only a titanic pretense of political strength can stave off the reveal of his family's awesome criminality and the fall of everyone hitched to that broke-down wagon.
So much for the funny stuff. Things are getting to the point where we stop laughing. It's only a question now of how the calamity rolls out. There are so many more parts to our national fiasco and they are all out-of-hand in the most disastrous way. The Ukraine project is a big part. It was prodigiously stupid to provoke a war at Russia's door-step and the side we backed, the Nazi-ish Zelensky regime, has already lost. You just don't know it because the American news business is a joke on the American public. It reports nothing honestly. Ukraine is the last in a string of hapless military adventures that has exhausted America's credibility in the world, especially as regards our military superiority. (Think: Russia's Kinzhal hypersonic missile.) There will be many unexpected consequences of the Ukraine screw-up. One will be the crack-up of NATO, which has only been a false front for American military power. Germany couldn't fight its way out of a duffel bag with what it's got, and it is supposedly Europe's leading economic power. The sad truth is that it will stop being any kind of power without the cheap Russian natgas it was running on, and later this year Germany will be in a panic to try and restore its horribly damaged trade relations with Russia to get that natgas. Since NATO's essential mission is to oppose Russia on everything, that will be the end of NATO. Europe will return to what it has always been: a region of squabbling national interests. Let's hope Europe does not become again the slaughterhouse it was in the last century.
The failure of the Ukraine project could easily stimulate a collapse in Europe's banking system, which would instantly spread to America's banking system as obligations dissolve and payments stop. The net effect of all that will be the vanishing of a whole lot of capital, including the money in bank accounts, the money invested in stocks and bonds, the money lodged in pension plans, and the money controlled by insurance companies. As I've mentioned before — it's worth repeating — you can go broke two ways: you can have no money, or you can have money that's worthless. We've been steadily following the latter path through the "Joe Biden" years, but we're close to simply not having money at all. Being broke will get Americans' attention. And the first place they'll look is the party in power.
Multiple scandals have finally caught up to "Joe Biden" and are escaping the formidable suppression apparatus erected by the Deep State's legal department. Attorney General Merrick Garland himself is now directly implicated in obstruction of justice by an IRS whistleblower. The allegation is that Mr. Garland interfered in the case against Hunter Biden in the Delaware US attorney's office and lied about it to Congress. On top of that comes a new allegation, with hard documentary evidence (testimony by former Acting CIA Director Mike Morell), that Secretary of State Antony Blinken and National Security Advisor Jake Sullivan arranged, as "Biden" campaign officials in 2020, for fifty-one intel officers, including five retired CIA directors, to sign a phony letter denouncing the Hunter laptop as a Russian disinfo project, knowing it to be untrue. A case can be made for that amounting to election interference.
All that is fairly fresh news. For many months, it's been known that Rep. James Comer (R-KY), Chair of the House Oversight Committee, has possession of bank records that show more than a hundred instances of the decanting of millions of dollars from foreign lands into various Biden family accounts. Doesn't look good. Looks impeachable.
Read (more) at the source: at Kunstler dot com. Source: https://kunstler.com/clusterfuck-nation/on-war-and-wars/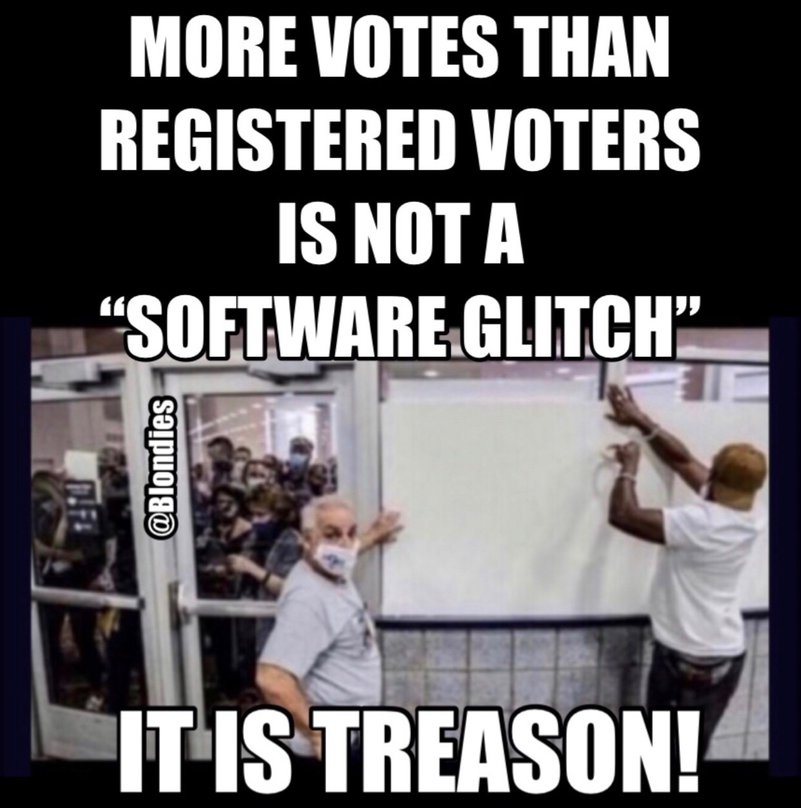 The Gods Have Gone Crazy
YouTube creators must spend time self-policing their old content because even though they complied with the rules at the time, the rules change constantly. That old video about Rumble was within the rules two years ago, but all of a sudden, it is now a violation of the rules, so you can lose your channel as a result of it. This applies across all social media platforms. The "terms of service" is a license to unleash hell on the platform users.
The same people turning the rules of the internet into a jumble of exceptions administered by petty tyrants are doing the same to the law. It used to be that you could have an opinion about the powerful people. You could get a bunch of your friends to hold a rally in order to express that opinion. In theory you can still do these things, but it is impossible to know if it is legal. Years after the fact the state of Virginia is prosecuting Charlottesville protestors for carrying tiki torches.

Of course, the people turning the law into a dangerous labyrinth are also redefining the phrase "new world order" to mean unpredictable chaos. America is supposed to be the keeper of the rules-based world and the defender of order. Instead, the Washington regime spreads chaos around the world, mostly by violating the rules they demand others follow and punishing those who do follow the rules. Washington has become the global tyrant, the great violator of order.

What one finds behind this spread of lawlessness and chaos are people appropriating for themselves the right to make exceptions. Whether it is trivial things like the rules of social media, the mundane things in our courtrooms and boardrooms, or the big things on the global stage, it is always the same people turning the rules into an unnavigable jungle of exceptions. They have declared themselves gods and have driven the rest of us mad with their endless exceptions.

They may be crazy, but they are not gods, despite their claims. They are just the ruling class of the American empire. Ironically, a founding document of the American experiment provides the remedy. "But when a long train of abuses and usurpations, pursuing invariably the same Object evinces a design to reduce them under absolute Despotism, it is their right, it is their duty, to throw off such Government, and to provide new Guards for their future security."

This is what we see happening in the world. The emerging global powers, along with smaller powers like OPEC, are abandoning the old gods of the unipolar world for the new gods of the multipolar world. The new gods promise to respect the rules and avoid exceptions without consent. The same must happen inside the West and eventually in the heart of the American empire. There will be peace only when there are new rules that are enforced by new men who know they are not gods.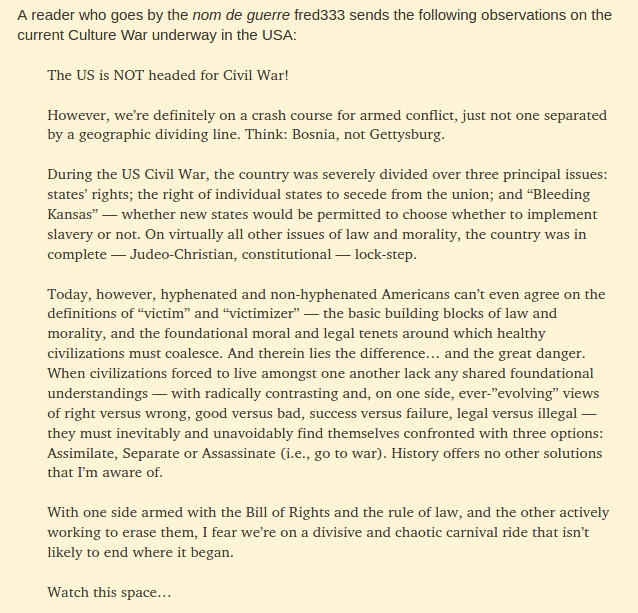 Click on the post above to go to the Gates of Vienna in a new tab.